The last two weeks leading up to Mother's Day have been like fingernails on a blackboard for me. I have endured the barrage of cheerful images of little tots holding their mothers' hands as they gaze lovingly at them, remorseful daughters handing their mothers Hallmark cards—peace offerings for the many squabbles, disobediences and disappointments now washed away by watercolor art and  treacle verses.  My mother took her last breath on August 9, 2015 following a short illness—just two weeks shy of her 87th birthday. This is my first Mother's Day without her.
Our family has always embraced holidays with panache. Over the years my mother has reveled in Mother's Day celebrations from breakfast in bed in Swaziland (I was ten and she had to re-cook whatever it is I so proudly presented on a tray), to her last one last May— a spirited church service, where she was greeted with hugs and kisses by members of the congregation, basking in her well-earned elder status, followed by brunch at a new, elegant Caribbean fusion restaurant in Brooklyn.
I miss so many things about my mother:  The way she made up lyrics to songs unknowingly, singing just the right melody; the way she, as someone who thought doggone-it was a swear word, would laugh hysterically over a rendition of "Christmas Time in the City," where the last word seemed to be pronounced shitty; the way she  pretended to walk the catwalk, modeling new outfits that were gifts to her from me; her willingness to get on a plane and go anywhere for a fete, a desire which far exceeded her physical capabilities toward the end of her life.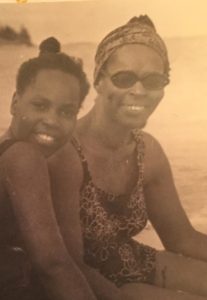 A friend of mine told me that the other day she took up the phone to call her mother about something in the news.  The catch?  Her mother had been dead for 10 years.  I have not had this experience yet, although I know that I will some day when, comfortable in my routine, I forget to mourn because I forget she is gone.  For now I know this is a hole that will never close, a pain that will never go away.
My mother, known to my friends under the moniker Princesa, was just that:  a princess, but one with many contradictions. A lively, gregarious person, she kept her own counsel.  Following an intellectually and culturally rich 16 years living in three international communities overseas, she immigrated to the United States.  Gone were the state dinners, the international women's clubs and the household help.  Here she became just another nameless, faceless immigrant running the rat race.  But she never once complained.
My mother had an overwhelming capacity to just get on with it. She swatted aside the petty jealousies levied against her by certain relatives in favor of forgiveness and peace-keeping. A lesson I am yet to learn.
My efforts to extract from her juicy details about her early life were met with stony stares.  I can only hope that my grandmother, the great love of her life, was her confidante, and that she had someone to share the answers to the questions I never got.
Toward the final days, as her life slipped away, it seemed like it was just the two of us against the world.  The intimacy we shared was not in the prurient details of a love life real or imagined, but in the shared purpose: life with dignity.
More than a week ago, I found in a box in my office a scroll my mother had given me for Christmas in its bright, shiny red paper, still unwrapped.  It read:
My precious child,
I love you and I will never
leave you.  When you saw only one set of footprints, it was then that I carried you.
Thanks Mom.  I could really use the lift now.  Happy Mother's Day.