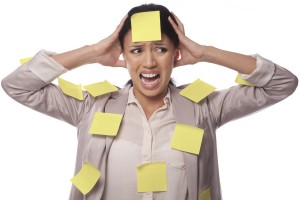 When I was a child growing up in Liberia, I would listen to a weekly radio show called the "Wilmot Stubblefield Experience."  After spinning the latest R&B and disco records (yes, it was the 1970s), Wilmot would close the show with a creative list of credits.  Sexy Voice in the Background:  Wilmot Stubblefield.  Choreography:  Wilmot Stubblefield.  Janitorial Services:  Wilmot Stubblefield. Set Design:  Wilmot Stubblefield, and so on.  What Wilmot was communicating, humorously—and clearly—is that he was a one-man show.
Recently I was working on a project with a client of mine, an exemplary professional who is a one-woman show in her own department within a large institution.  After complimenting her on her extraordinary work, I told her about Wilmot.  "I thought I left Wilmot behind in Liberia, but you are Wilmot," I told her over peals of her laughter.
How many of us are Wilmot Stubblefields, burning the candle at both ends, factoring in weekends as if they are additional work days?  Jumping every time the cell phone so thoughtfully purchased by our employer rings?  Logging on even before we brush our teeth in the morning to see what fire we should put out next at the office, while our own list of personal obligations goes unfulfilled?
A wonderfully insightful McDonald's ad speaks to the shackles of modern-day American life:  A woman declares she is going out to lunch as her co-workers shrink away in shock, horror and fear.  A co-worker says tentatively "I don't want to be a chicken, I want to eat chicken," before walking off to join her in this act of subterfuge:  taking lunch.
This is an issue for which I have questions, but no answers.  How can we in today's context make a living and have balance without becoming Wilmot Stubblefield?  As we skip lunch, vacations, family time and essentially our own lives to ensure that we stay employed, is it even possible to think about balance?  Any ideas Affirming Community?  Please write me and let me know.
Gorgeous editorial director behind the writer:  Baldhead Empress.