I love you Tamron Hall, but you're wrong. Wrong to pardon Snoop Dogg so easily for threatening journalist Gayle King's life. Wrong to give him a pass after his weak apology more than a week later. I get that he is your friend (as is King) but for too long Black women have been the punching bags–literally and figuratively–for the cumulative rage that Black men feel in America. It's time to call it: Enough is enough.

Black women are one of few groups on these shores to endure institutionalized rape as we did during slavery. Today we are disproportionately the victims of rape and domestic abuse. According to the Institute for Women's Policy Research:

More than four in ten Black women experience physical violence from an intimate partner during their lifetimes. White women, Latinas, and Asian/Pacific Islander women report lower rates.
Black women also experience significantly higher rates of psychological abuse—including humiliation, insults, name-calling, and coercive control—than do women overall.
Sexual violence affects Black women at high rates. More than 20 percent of Black women are raped during their lifetimes—a higher share than among women overall.
Black women face a particularly high risk of being killed at the hands of a man. A 2015 Violence Policy Center study finds that Black women were two and a half times more likely to be murdered by men than their White counterparts. More than nine in ten Black female victims knew their killers.
That's why Snoop's menacing message to King that he was "coming for" her made my blood run cold. Made me stop in my tracks. Made me cringe with shame. King's crime was daring to ask Kobe Bryant`s friend Lisa Leslie about the 2003 rape case against him (privately settled out of court) as part of a wide-ranging interview. In other words, doing her job. For which, thanks to Snoop and his vile followers, she now needs bodyguards.
It is a hard truth that Bryant's legacy–of sports and business acumen, supportiveness toward competitors and teammates alike and lovingly parenting four girls–also includes the cloudy period during which he was accused of rape. The charges against him were withdrawn when the alleged victim ultimately refused to testify. But you cannot excise this from Bryant's past because it is ugly or because it doesn't fit the rest of his profile. Facts are facts.
The grief felt by Snoop, who knew Bryant, and people who didn't worldwide, does not make it okay to threaten someone else just for reporting on Bryant's life. Because it is an excuse for aggression. And there is always an excuse. Just ask the families of the nine out of ten Black women who were murdered by an assailant they knew.
Bryant was ultimately responsible for the shaping and protection of his own legacy, as we all are for ours. Bryant's community of men–relatives, friends and celebrities–could have played a role in counseling a young Bryant on the expectations of marriage and the trappings of fame before the alleged rape. But magically the facts have been twisted, absolving the Black man/Black men of all responsibility so that decades later the blame lands once again in the lap of a Black woman. A familiar, comfortable and acceptable place in our community.
Snoop Dogg, posing as the protector of Black legacies, was nowhere to be found when B. Smith, the model, restaurateur and doyenne of gracious living, allegedly endured sabotage from a competitor, Martha Stewart. In an August 22, 1999 profile of Smith and her husband Dan Gasby, New York Times Magazine reporter Julia Reed wrote, "Both Smith and Gasby have said they believe that Stewart tried to stop their show from getting into production. 'We had a deal with Warner, and that dried up,' Gasby says. 'Then we had a deal with CBS, and that dried up.' (Time Warner has a minority share in Martha Stewart Living Omnimedia, and a division of CBS syndicates Stewart's show.) Television executives deny the charge, and Stewart has replied by wishing Smith well." Smith's syndicated show, B. Smith With Style, ultimately ran for several years on BTN and Bounce TV.
Not only was Snoop completely silent on Stewart's actions against the livelihood of another Black family but he has also been in business with Stewart since 2016, headlining a VH1 show called Martha & Snoop's Potluck Dinner Party.
Here are a two recent tweets from Snoop about Stewart: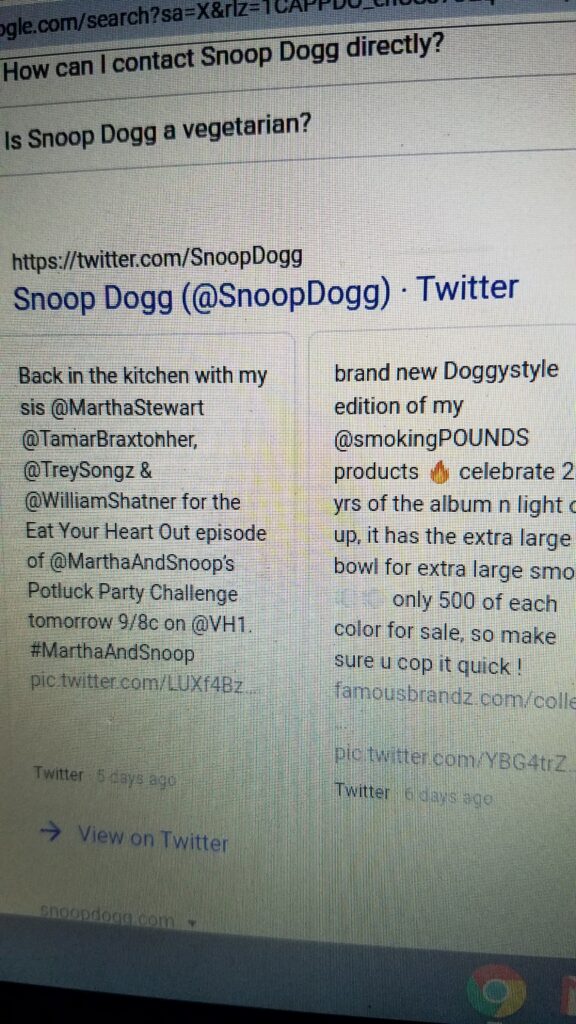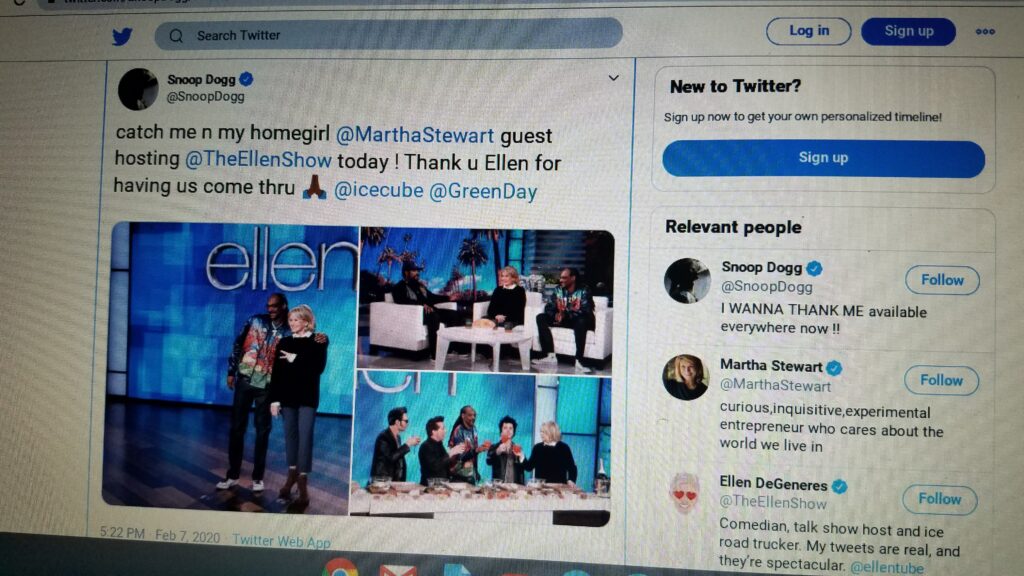 Make you feel all cuddly inside? Evidently in Snoop's world some women are more worthy of respect than others.
I love you Tamron Hall, but you're wrong. Let's be clear: I am proud of you. Proud of you for persevering against the many obstacles that led you to finally launching your own show. Proud of the team you have assembled, including and especially the original Sasha Fierce, producer Sasha Mitchell (big up to my peeps! Go Yardies!)
I love you Tamron Hall, but you're wrong. I am touched, Tamron Hall, when your eyes well up during an emotional segment, tickled when you shake with laughter, bending at the waist or dropping to your knees as if to mitigate your own mirth. I am a fan who finds myself watching your show when I should be working. The 10-to-11 a.m. hour is a bright spot in my day.
I love you Tamron Hall but you're wrong when on Thursday's show you paraphrased Snoop calling down the very trolls he had unleashed: "We don't talk to women this way. Even out of anger we don't treat women this way." You concluded in your own words: "That's why you are an OG Snoop. Thank you so much for that apology. "
I do not listen to rap, so I Googled Snoop, and found the following lyrics for one of his songs at the top of the list:

Pass it to the homie, now you hit it
Cause she ain't nothing but a bitch to me
And y'all know, that bitches ain't shit to me
I gives a fuck, why don't y'all pay attention
Approach it with a different proposition, I'm Kurupt
Hoe you'll never be my only one, trick ass bitch!–from "Ain't no Fun" by Snoop Dogg

I write about you, Tamron Hall, because you exude love, and with that comes even more responsibility for the rest of us who don't. "Forgiveness is everything " you said on Thursday. But forgiveness without a true reckoning is dangerous, toxic for Black women, I maintain.
I write, Tamron Hall, to open dialogue on a topic that we in the Black community only skirt around: misogyny. The vile missive from Snoop cannot be put in a box and so easily forgotten. His original words are part of a toxic stew that has been simmering for generations. The dismissal of this behavior by you, and most recently by Gayle King herself–two public figures–makes the pleas from everyday people like me for basic dignity difficult. It threatens our lives in ways that are both obvious and not.
Because we live misogyny every day we cannot casually swat it away. Because people like me do not have the means to hire and sustain bodyguards, we must tell the truth about the poison that has seeped into our communities, poisoning its every core: relationships between men and women. Snoop's easy pass is not an option.
For Snoop and his trolls breezy messages of support (even amid your condemnations of their attacks) are green lights for more bad behavior. As one of your Valentine's Day guests, producer and motivational speaker DeVon Franklin, told your mostly female audience, "You are worthy of the very best." The behavior of Snoop and his minions is the opposite of that.
Black women do not have the luxury of magnanimity when it comes to violence against us. We ride or die for Black men. It is about time that they do the same for us.

I love you Tamron Hall, but you're wrong.