Well Affirming Community. This is it. I am writing from the hills of Jamaica, one of the most peaceful places on the planet. Jamaica is where I feel most at home and where I come for contemplation and to make huge decisions.
Wednesday, January 25
But Affirming Community, let me back up: Wednesday, January 25, approximately 10:40 a.m. I am on a Jet Blue flight and I catch a glimpse of my beautiful island. Tears roll down my cheeks unchecked, uncontrollable.   I am home. My cousin Helen meets me and  whisks  me off to Gloria's, a rustic outdoor seafood restaurant in Port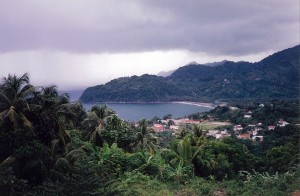 Royal–the city known for pirates and for a tsunami that wiped out the wicked populace in 1692–not far from Kingston's Norman Manley airport. I woof down grilled lobster, festival (fried, sweet cornmeal). It is warm, I am outdoors and eating seafood by the sea. What more could I want? Gloria's is at 15 Foreshore, Port Royal, 876 967 8220.
Thursday, January 26
The Tiny Guru, aka Leeanne, leads my cousin Helen and me in an hour of yoga. It is 5:30 a.m. in the morning, which is torture for a night owl. I tell Leeanne that I have quit the lousy job, and she congratulates me. "Why don't you here stay longer?" she says with an inquisitive tilt of the head. I wish.
In the evening Helen and I head up to the University of the West Indies, where my cousin Hilary is doing a reading of her book, White Squall on the Land.  Today also happens to be Research Day at the university, where secondary students come to the campus to get a tase of unversity life.  The campus is swarmed with young people in their various school uniforms, taking in the environment, chatting with each other and exhibiting bravado about this new era they are to embark upon.
Friday, January 27
Helen, her sister Hilary and our cousin Pat and I set off on an excellent adventure to the Jamaica Jazz & Blues Festival in Trelawny(http://jamaicajazzandblues.com). To save ourselves the drama of driving on Celine Dion night, we join hordes of humanity on chartered buses. Affirming Community, I will save you the drama—it was complete and utter mayhem. I am not feeling proud of this 50th year of the island's anniversary at all! Once in the stadium we arrange our lawn chairs and settle in. Pat and I go foraging for food and drink, settling on delicious (and overpriced) jerk fare from Scotchie's. (See the link for how they cook this delicious fare: http://www.youtube.com/watch?v=QhtF0E9ySFw.) I wander the grounds and find a booth where a vivacious sister, Tesea Bennett is selling accessories from the line designed by her brother Duane Bennett called Reve, which celebrates indigenous Jamaican materials. I buy a ring of brass and a nut called cahoo. Several other pieces catch my eye in yellow turquoise (never heard of it) and other interesting stones.
Can't tell you why I like it Affirming Community, but I do. It's a synergy thing. Tesea tells me that while her brother has won some terrific awards, they are still trying to get a foothold in the States. With more than 40% of the Jamaican population 17 and under, artists MUST develop overseas connections to survive. The market simply does not exist for them at home. I promise to make some phone calls for them when I get back: http://www.revejewellery.com.
Thanks to the preamble leading up to Celine Dion I am introduced to new artists (at least new to me) Jamaicans Tammy and Tessanne Chin and Ritchie Stephens, and a German called Gentleman who inexplicably speaks with a broad Jamaican accent.
And then the highlight: Celine explodes on stage complete with full orchestra and backup singers. The crowd loves her and the feeling is mutual. The crowd sways and sings loudly line for line to all her standards: "Beauty and the Beast," "Let This Be My Prayer," "Because You Love Me," etc. Unbeknownst to me I am singing just as loudly as everyone else. In a great political move she joins Jamaican Diana King in a rendition of "Treat Her Like a Lady." She disappears off stage for 3 costume changes—the woman is a well-oiled machine. In a post-show interview she said, "Typically I may have the crowd by the end, but here they were right here with me from the beginning. We felt embraced. I wanted to stop singing and just listen to the crowd, but of course I couldn't. " I'll never forget this evening for the rest of my life. The evening a white Canadian mother of three stopped traffic and held my Black nationalist island captive. Celine Dion transcended. You rock sister!
Sunday, January 29
Off to Tarant Baptist church with Helen. I am thrilled that all the verses are projected in large type on a screen. The ideal service for a little old lady in training. The day's lesson was about sexuality, and my takeaways are not what the lay preacher intended. That's another blog, Affirming Community. http://www.tarrantfamily.org.
After a lunch of cowfoot stew, crafted by Fred's own hand, Hilary, Fred and I strategize her May USA book launch of White Squall on the Land. Fred is Hilary's husband, and a leading authority on Jamaican mental health. http://www.fredhickling.com/publications. Our conversation veers from Caribbean migration to slavery. Fred does a radio program phone-in interview on the state of the local mental health hospital, Belleview, which he managed back in the 1970s. I always learn so much from being here.
Tuesday, January 30
Hilary takes me to visit a friend of hers on the university campus. Sitting on the porch and sipping june plum juice, we talk about racism, baking, American politics and a host of other topics. The two academics beat me to the punch in just about every category. Not being able to get in a word edgewise, I surrender and just listen.
In the evening Helen and I go to see the National Dance Theater of Jamaica at the Little Theater. It is a celebration of the life of Rex Nettleford, the luminary who founded the theater, and a fund-raiser for the foundation. Because dancers cannot support themselves at their art, Nettleford insisted that his dancers pursue tertiary education. The dancers are joined by their own singers, and the University of the West Indies singers. I particularly enjoyed the dances BARRE TALK and URBAN FISSURE, danced by the inspired Kerry-Ann Henry and other members of the troupe, and set to music by the masterful Bob Marley.
Wednesday, February 1
Helen and I meet Hilary at their parents' home. I freeze when Helen tells me this today's plan as I have not been to the home since both my beloved aunt and my uncle have passed. I dread seeing an almost empty house for the first time. When we get there Hilary is already there with staff, who are packing up the shelves in the living room. Helen offers me mementos from the home, and I gladly take them. How does one pack up an entire life? Hundreds of people have passed through this home over the years. It has been filed with love and loyalty and the presence of two of the best people I have ever met in my life.
I go with Helen to Desiree's to get her nails done. Afterwards she drops me at Devon House www.devonhousejamaica.com, a collection of souvenir stores and eateries housed in a historic house owned by one of Jamaica's early Black businessmen. There I can go to Wassi Art:  www.exportjamaica.org/wassi, whose exquisite ceramics I have collected over the years. Much to my astonishment this particular branch is going out of business and I grab 5 items for less than $80. Luckily Wassi will retain its Ocho Rios store, and online presence.
Thursday, February 2
Helen drives us to the Riu Hotel in Ocho Rios, a Spanish owned monstrosity of an all-inclusive hotel. Short on style, but big on convenience, the Riu serves its purpose: quick access to the sea. www.riu.com/jamaica.
It is overcast and raining, which preempts a morning dip. I take a trip to Dolphin Cove, www.dolphincovejamaica.com, where I pay for a "touch" experience with dolphin Ritchie. Evidently the cove is host to some 30 dolphins, 5 of them born in captivity in Jamaica. The remainder are rescue dolphins, including Ritchie, who actually hails from Cuba. Like Jamaicans whose national dish includes saltifsh, which is imported, dolphins eat mackerel, which is imported by the barrel.
Their trainers extol their intelligence and gentleness, and tell us that they do not sleep, but rather shut down one half of their brains to rest, and about their  three acidic stomachs. I am thoroughly fascinated with the dolphins and pepper the trainer with questions about them.
Following some crowd-pleasing tricks like high-diving, and tail and fin waving, Ritchie does several swim bys, allowing us to touch his rubbery belly and back. After cupping my hands, Ritchie swims to me and plants a "kiss" on my cheeks. Turns out there is plenty to do at Dolphin's Cave—swim with the dolphins (I will learn how to swim this year so I can do this), petting the stingray (I pass), music, food and lots of shopping.
Back at the Riu, a Michael Jackson show, complete with doppelganger Michael Jackson impersonator, brings the house down in the evening.
Sunday. February 5
At  the hotel Terra Nova in Kingston for their famous Jamaican Sunday brunch, http://www.terranovajamaica.com, we meet Professor Stephen Vasciannie, principal of the Norman Manley Law School who as it was reported in the week's gleaner is expected to be the next ambassador to New York. His papers have been sent to Washington for vetting, and he demurs to the process when I congratulate him.
Monday, February 6
Well affirming community, this is it.  My vacation in paradise is over and it is time to get back to reality.   I am rejuvenated and reinvigorated.  And, as always, grateful to this beloved island that has given me so much.  For information on how you can visit this island paradise, please visit www.visitjamaica.com.  One love!