In the PBS TV series, An Unsuitable Job for a Woman, the protagonist, Cordelia Gray, runs a detective agency solo after the death of her partner. A former secretary, she is wracked by self-doubt as she navigates her way through this male-dominated world, dodging the scorn of male colleagues and perpetrators alike to solve cases.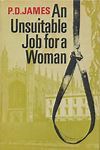 The book An Unsuitable Job on which the series was based was written by P.D. (Phyllis Dorothy) James in 1972. In her early years James supported her small family with a variety of civil service jobs while her husband, a physician, was institutionalized after coming back from World War II, presumably with PTSD. Despite her accomplishments, she used her initials rather than her full name, raising the question of whether mystery novelist was in itself an unthinkable job for a woman. …
In New York City in 1970 around the time P.D. James was writing An Unsuitable Job, 46 brave women, represented by the sole lawyer who would take their case, Eleanor Holmes Norton (now U.S. representative Holmes Norton), sued Newsweek for discrimination. The women were routinely called c _ _ t, one was even stalked by a senior editor whose advances she spurned; they were all prevented from progressing from researchers to reporters with bylines. In 1970, 25 percent of Newsweek's masthead was female. Today that number has risen to 39 percent, and wait for it, all but six of the Newsweek's 49 published cover stories last year were written by men.
More than 40 years after this landmark case, I joined a professional alumnae association whose membership skewed to legal professionals. One of the women, who was just a few years older than me, shared that when she joined her law firm there were no women's restrooms on the floor where the partners frequently convened. She had forsaken active motherhood with her first two children for the firm and partnership, and when late into her 40s she conceived again, she pledged to spend more time enjoying this miracle baby.
I admired her achievements, and felt proud to be in the company of such a groundbreaking woman: history, an arm's length away. Those feelings were dashed several months later when I saw this same heroine cower like an insecure, option-less teenager when her husband demanded loudly to leave a family-oriented event because he was bored. My jaw dropped as she quickly gathered up her children, pleading for their silence and cooperation before scampering off in obedience.
Professional pioneers received shelter/cover by getting married to men. The institution of marriage reduced their chances of being sexually harassed by at least a few percentage points and freed them up to do their important life's work. The quality of those marriages I can only imagine ranged from cringe-worthy to solid. As an older colleague once told me, men in the workplace react much more positively to a woman when they know there is a man "keeping her in control" at home. I scoffed at this woman with all the righteous indignation of a 20-something feminist.  Regrettably, those scorching words would play themselves out over and over in the years to come.
As we as American women smugly collect secondhand curlers to send to Afghanistan so that the downtrodden women there can learn how to become hairdressers, shaking our heads about their oppression, I look at our own more recent feminist history—from wife beater tee shirts (coined in its more modern incarnation after a man beat his wife to death in 1947 and was photographed in a stained, sleeveless undershirt) to Jackie Gleason's "to the moon" cry (as in he was going to knock his wife into the galaxy) to the coverage of our own current presidential election— and wonder:   Is the American presidency an unsuitable job for a woman?
In the self-described greatest country in the world, there is no template for a woman president or vice president. A candidate must pass the "who do you think you are?" test. Shirley Chisholm, the first Black person and woman to run as a Democratic candidate for president, didn't. She once said,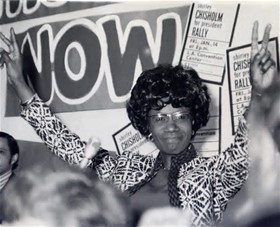 "When I … ran for president, I met more discrimination as a woman than for being Black."
The badly married test: Vice Presidential contender Geraldine Ferraro became a teacher because that was what was expected of women in her day. She went to school at night while working and raising a family, and graduated one of two women in a class of 179 from Fordham Law School. She endured being paid less than a male counterpart as a DA before turning to politics. In 1980 Walter

Mondale tapped her as his running mate, but her personal story of industriousness and perseverance eventually took a back seat to her husband's allegedly shady business dealings. She never recovered from the scrutiny.
Whatever you think of Hillary Clinton I am still stunned to hear references to her clothing and her overall appearance.  I am aghast that women who have accused the former President, her husband, of sexual assault and impropriety were initially offered seats at last week's presidential debate, something that did not happen (to my knowledge) at the actual accused's debate.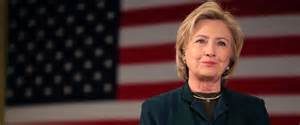 The Republican nominee for president has regularly brought up President Clinton's sexual conduct as part of his campaign against Secretary Clinton. So I must ask–unless it is proven that she, as part Lady Macbeth and part scorned woman, personally tried to strong-arm any of the accusers–is she personally responsible for her husband's behavior? Do we hold President Ford responsible for Betty Ford's alcoholism? President Lincoln for Amy Todd Lincoln's poor mental health? President Reagan for Nancy Reagan's spending? Her faith in psychics?
There are lots of formerly unsuitable jobs for women that have become barely acceptable jobs for women, from physician to police officer to firefighter to electrician to carpenter to clergy. As for the presidency of the United States? It is clearly the last holdout.
***
Affirming Community I recommend as a great history lesson and a fascinating read Good Girls Revolt: How the Women of Newsweek Sued their Bosses and Changed the Workplace, by Lynn Povich, one of the "ringleaders" who went up against this venerable news organization.