Okay beloved community.  It is no secret that I love the Olympics. No IOC corruption, poor sportsmanship and NBC Olympic coverage that is really Americans do the Olympics can dampen my enthusiasm.
On the weekdays of this mammoth meet I was sure to leave the office on time, take an hour-long nap and then watch the proceedings sitting in lotus position from my perch atop my bed, a bowl of ice cream firmly ensconced on my lap. Hours later I would be prone from my sugar coma, and the TV would watch me. Bleary eyed I would get up and begin the process all over again. I thought I would share my own observations of this spectacular event before I go into full-blown withdrawal. Only two years until the winter Olympics.
Opening Ceremony: Unceremonial Commentary
My first adored event is the Opening Ceremony, where I get to cheer on athletes from the countries I lived in: Jamaica, my parents' native land, Liberia, Malawi and Swaziland–oops–cut to commercial. This tiny kingdom that once was my home ranks at the top of the list of countries not winning medals and therefore at the top of the list of countries that don't matter in NBC's estimation.
This year NBC decided to best Bob Costas's reeling off of the most negative features of other countries by employing three hosts to do the same.  After hearing about an Olympian whose brother was a suicide bomber from Matt Lauer, all while he extolled the virtues of the American gold medal contenders, I was tempted to revert to my Friday night guilty pleasure: My Big Fat Gypsy Wedding.  (This Gorger just can't get enough of the ornate dresses and family throw-downs. And their heritage wars–Romanichals shouldn't marry Romanian Roma and anyone but themselves–just melt my multi-culti heart.)
But I digress.  I fantasize about a broadcaster from another nation announcing Americans in 2020:  "This is a nation who chose as their 2016 flag bearer an athlete with two DUIs, whose secondary swimming star has elicited headlines like "liar, liar speedo on fire" (the New York Post) and "Lochte Mess Monster" (the New York Daily News) for fabricating a story about being robbed at gun point; a nation with the most gun violence of any industrialized country;  a nation that invests more funds building the prison industrial complex than in education."  Not nice when the shoe is on the other foot, is it? Surely it is not that hard for NBC to hire an intern to research positive things about other countries.
Twittersphere, the great equalizer–interrupted the masturbatory America-the-great coverage with tweets about the delectable Tongan athlete Pita Taufatofua, who carried the flag clad in his native dress, his bare chest shining from coconut oil, as per tradition.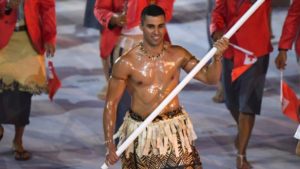 Lost in the story was the athlete's 20-year odyssey to make the Olympics.  True to form the NBC broadcasters, who interviewed Taufatofua the next day, never took the time to learn how to pronounce his national dress ta'ovala (decorated cloth), and he had to correct them twice. The NBC team practically mauled him, setting off another digital explosion calling for Hoda Kotb and Jenna Bus Hager to step down for their behavior.  But he sure was purty: good manners to hell.
Bolivian swimmer, José Quintanilla melted hearts as well, sobbing as he entered the Opening Ceremony with his team, as if surprised by his own good fortune in being among the world's best athletes.  Humility is a beautiful—and rare–thing in this setting.
Sour Puss in Speedo
Swimmer Lilly King made headlines for dissing Russian swimmer Yulia Efimova, who has been tainted, as has much of  Russia's Olympic team, with doping infractions.  Efimova, who decried King for turning the Olympics into a "war," and called her "young," opined in halting English, "She doesn't know sometimes how life is going on." I agree entirely.  Egged on with plenty of attention from the Western press, King seemed to not understand that the term "state-sponsored doping" is just that. Efimova could hardly march up to hardliner Vladimir Putin and tell him she wants to swim clean.  A mature person would just enjoy her own success and know that oppressing and humiliating the oppressed hardly makes one a hero.  It just makes one a bully. And those are a dime a dozen.
Sportswomen and Heroes
Kudos to the American Final Five American women gymnasts, who giggled their way through media interviews, actually went sightseeing in Rio, and, led by Simone Biles (two golds, one bronze), won team gold with 8 points separating them  from their competitors.  Their infectious perkiness and optimism—not to mention inarguable individual and team skills–spurred them to top off coach Márta Károlyi's final Olympics as one of the best ever.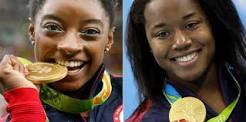 Simone Manuel became the first African-American female swimmer to win gold in an individual event when she tied for first place in the 100 meters freestyle, leaving me to wonder, most of all, who is keeping these stats?  Manuel gamely got through a barrage of the "first Black" interviews, embracing the need for more diversity in the pool before admitting that the attention could imply that she is  "doing something I am not supposed to be doing."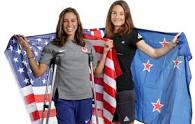 Nikki Hamblin of New Zealand and Abbey D'Agostino of the United States tumbled during the 5,000 meter semifnal race.  The
American helped up the New Zealander, insisting they finish the race.  "That girl is the Olympic spirit right there. I am so impressed and inspired," Hamblin said of D'Agostino, who won  a  sportsmanship award from the IOC.  The Olympics at its best.
Big-up to the Yardies
Congrats to the Jamaican team for a stellar Olympics that produced six golds, three bronzes and two silvers.  Usain Bolt is now nine in nine:  three gold medals in the last three Olympics for the 100 and 200 meters, and for the 4-by-100 relay.  Happy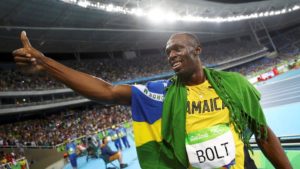 pandemonium broke out not only in Halfway Tree, Kingston, as Bolt's country people observed his wins from a Jumbotron, as well as at Kennedy airport, where an audience assembled to watch the athlete's 100 meters race was so raucous other travelers thought they were under attack and ran for their lives. It will be interesting to see what this track star's next era will look like:  Hopefully his recent nightclub antics will not overwhelm his legacy.
Newcomer Elaine Thompson pulled off double golds in the 100 and 200 meter races.  No doubt she will be a force to reckon with in the upcoming Olympics.
In track-crazy Jamaica, no doubt new talent will be spotted at the Inter-Secondary Schools Boys and Girls Championships (Champs), an annual multi-sport high school athletics meet held by Jamaica's Inter-Secondary Schools Sports Association. The four-day event, held the last week before Easter in Kingston, is an incubator and showcase for new track stars. Can't wait to see who emerges between now and 2020. I'll be in the stands in Japan to see it myself, beloved community.  Hold me to this major item on my bucket list.
Anthem Schmanthem
This is the first Olympics where I have seen medal ceremonies where the Jamaican gold medal winners get to have their anthem, "Jamaica, Land We Love" played.  When the anthems of other nations are played it is usually when NBC cuts to commercial break.  In actuality, it would be educational for Americans to consistently see the flags of other nations, and to hear their anthems during the medal ceremonies.  At the end of the day, not just Americans win gold.
Which brings me to another pet peeve: Will somebody please teach the American athletes their anthem? I'd love to see the "Star Spangled Banner" rather than anticipated endorsement dollars lighting up their eyes when they are on the podium.
McMedals
The daily medal count appropriately sponsored by McDonalds presented a skewed vision of the world.  With a team the size of St. Olaf, it is no wonder that Americans are typically at the top of the medal count.  How about a medal count for those countries taking home their first medals ever? Or for those countries with the least amount of athletes who actually win a medal.
Obrigado, Brazil
Congratulations to Brazil for pulling off the 17-day spectacle that is the Olympics with dignity and grace amid challenges too many to mention here.  It is my hope that the 80,000 people who were displaced for new sports-related buildings will find peace and community in their new dwellings. 

It is also my hope that the IOC, which apparently has no known formula for income sharing with the countries that host the Olympics, will grant Brazil transformative funds that can be used to help bolster their flagging economy.  My parents took me to Brazil when I was about 8, and it is my wish to return there one day, to take it in with an adult's lens.  I hope I will find it a better nation because of rather than in spite of the Olympics.