Once upon a time Barbados was the destination of choice for slavers peddling in human cargo. Africans shipped to Barbados for exploitation were seen to be malleable, even docile, according to local lore.  Jamaican lore boasts the complete opposite:  The ungovernable slaves were sent to the land of wood and water, as the indigenous Arawaks (now extinct) called the island.  There, they were brutally subdued.  Those who were able fled into the hills, formed Maroon communities such as Accompong (a name that is straight out of Ghana) and Moore Town.  They fought guerrilla wars against the English before signing separate treaties in 1738 and 1739. (Big-up to my Maroon peeps.)
One such truce included an agreement to return future runaway slaves to captivity.  English slavers feared the influence of the indomitable Maroons on enslaved populations and blamed them for bloody uprisings. The British captured and shipped 600 of these warriors to the West African nation of Sierra Leone following a second Maroon guerrilla war in 1795 to 1796. It was the second time a reverse "shipment" like this had been made.
Both Barbadians and Jamaicans are immensely proud of these stories, which leaves me, a woman of Jamaican descent with Barbadian in-laws, in a neat spot.
While not quite zen, Bajans, as they are commonly called, are polite without being intrusive.  They are the Ghanaians of the Caribbean, with one of the highest literacy rates in the world (99.7 percent).  Jamaicans on the other hand, known as the Nigerians of the Caribbean, wear their abrasiveness as shiny accessories.  At a forum several months ago, Nigerian Nobel laureate Wole Soyinka said that when he was studying in London and riots broke out, he ran to the Jamaicans for cover.  "They're crazy!" he said, shaking with laughter as I shrank in my seat.
But I digress. I am heading to Barbados for some desperate get-my-mojo back downtime. The only items on my agenda are seawater and writing. Placid Bridgetown wins out over hectic Montego Bay by just a few bucks.  Winter travel, which I seldom do, is impossibly pricey.
At Kennedy, I run into a Jamerican acquaintance who runs a small business in New York City.  "Get yourself a Jamaican passport," she warns me.  "It's good to have options.  You never know who the White House will target next." The travel ban on several countries has just been unleashed on the world.  I cannot wait for a reprieve from the panic. But I make a mental note of her advice.
I immediately get into a discussion about the new resident of the White House with my cab driver from Grantley Adams International airport in Bridgetown, Barbados.  He is both informative and insulting, Bajan style.  "The American people voted for him, so what do you expect?  He is doing what he said he would do."   Here we go again. I stare gloomily out the window.
On my last visit to Barbados for my cousin's wedding in 2015, I stayed at the Bridgetown Hilton.  It was terrific for its choice of on-site restaurants, especially sprawling, delicious daily buffet breakfast overlooking the sea, shops where I bought my first watch in more than a decade (a Wenger with a large face) and spa, where I conked out in the middle of a rigorous Swedish massage. But the water was rough at the hotel, and I ended up walking to the Radisson Aquatica Resort every day to join other wedding guests at jewel-blue Needham's Point beach, adjacent to the facility.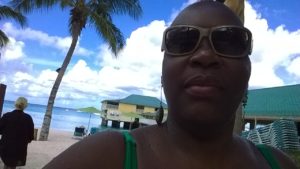 This trip I stay at the Radisson, which is comfortable but no-frills.  Despite a controversial new hotel deal being dissected in the papers and on TV and talk radio, Bajans seem to be vigilant about preserving the ocean as a natural resource and the birthright of its citizens.  There is full public access to the beach in front of the hotel, and part of my enjoyment this vacation is in watching Bajans take advantage of it.
Early in the morning trainers coax elegant, skittish racehorses into the sea, clucking their tongues to urge them into nature's bathtub.  The men speak to the animals in low, reassuring voices.
Four 30-something girlfriends run-walk the length of the beach, giggling and punctuating their sing-song speech with lively hand gestures.  I imagine them, like so many working women across the globe, rushing home after exercise to change and go to work.
An elderly man who is dragging his left leg and listing to the right, is accompanied by his best friend, a speckled mutt.  The man is wearing long, brown swim trunks that engulf his spindly legs.  The trunks appear to be bleached by salt; he is a regular here. The dog is attentive, following his owner obediently into the sea for their morning constitution.   Swimming tight circles around the elderly gentleman, the faithful friend keeps his charge in his eyesight. Once comfortable in the open sea, the senior drops the mutt's red sisal leash; giving the animal a wider berth.
In the mid-afternoon, adults lift tiny children into the sea for swim class. In groups of four the tots are taught how to float, paddle, and hold their breath under water.  They shriek with self-consciousness and delight.  The adults watching from the beach and the sea are touched by this little vignette of everyday life, playing itself out amid the artifice of the tourism industry.
I go back and forth between the beach and the water all day, until the sun finally sets and the hotel's bright lights cast an odd greenish hue on the water.
It has been a struggle to find great cuisine on my two trips to Barbados.   The world-famous Oistins is an informal weekend food court where seafood is prepared in the open.  Dour clothing and jewelry vendors sell their wares from booths, and there is live music.  I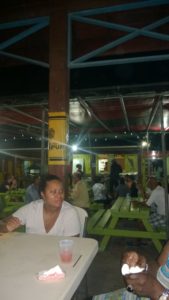 order a large, baked lobster dinner, and polish it off in one go, sitting in a wobbly white plastic chair.  The chef grins happily at my conquest, his affable face shiny behind the leaping flames of his grill.
Cuzz's is a seaside stand run by the Bajan version of Seinfeld's Soup Nazi. It always has a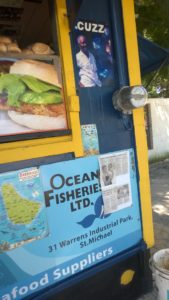 line of residents and tourisses (Bajan speak for tourists). Looking harried and put-upon, Cuzz serves a delicious fish and cheese cutter (sandwich), which can be topped off with a sodas or local beer. Unlike much of the food being offered to tourisses in the larger food establishments, the ingreasements (Bajan for ingredients) include mouth-watering seasonings (I can't help you on the details, but it eat good as we say in Jamaican speak). Cuzz is located conveniently between the Hilton and the Radisson.  Even I can find it without getting lost.
My days of running through the rain forests of Dominica and eating agouti and crapaud are long over, so I'll share with you two relatively sedentary activities that I found entertaining:
Not for the claustrophobic, Harrison's Cave is a national treasure that seemingly any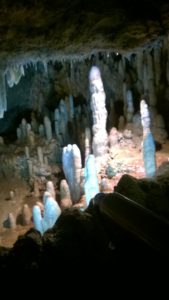 Bajan can wax poetic about.  It is 2.3 kilometers long, and at its highest, 15 meters. It boasts stalactites and stalagmites (yes these exist outside Mrs. Moorehouse's geography class) subterranean tunnels, streams, waterfalls and emerald-green pools.  A cortege of trolleys delivers tourisses to the depths of this surreal natural wonder.  We are immediately minus one when a mother of three abruptly alights from her trolley.  She runs like she's being chased by the devil literally to the light at the end of the tunnel.  Our tour guide, ever Bajan, wishes the coltish woman well (to her back) and proceeds to load us up with numerous geological insights and humor designed for our dull, foreign heads.  The caves are eerie, beautiful and cool.
The islands are famous for their rum, and Bajans are quite proud of this heritage, as well.  I detect no judgment from the hotel's staff when I go off on a tour of the Mount Gay Rum Distillery, complete with rum tasting, at 10:00 a.m.  At more than 300 years old, Mount Gay is touted as the world's oldest rum.  An affable young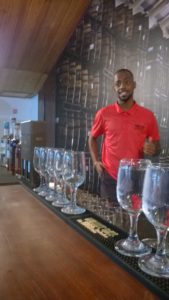 man takes a small group of potential lushes through the five styles of Mount Gay rum—Pure Silver, smoky Eclipse, sweet and spicy Black Barrel, oaky Extra Old, and caramel-forward 1703 Master Select. We take a sip of each of the rums (research) and pretend to notice the difference.
Yes, the rum descriptions above are from Mount Gay.  I have very little alcohol cred, and my Jamaican-ness kicks in.  There is no rum like Wray & Nephew's Overproof, white, I huff with my inside voice.   I buy two obligatory 1703's, under pressure from the luminescent tour guide, but back at home, the bottles remain on the liquor shelf  reserved for guests, untouched.
Merry Christmas, Happy Holidays, and as is said in Jamaican speak, walk good for 2018 Affirming Community.